Dronamics, the world's first cargo drone airline and Aramex (DFM: ARMX) have announced a LOI (Letter of Intent) agreement for cargo drone flights leveraging Dronamics' technology and Aramex's fleet management capabilities.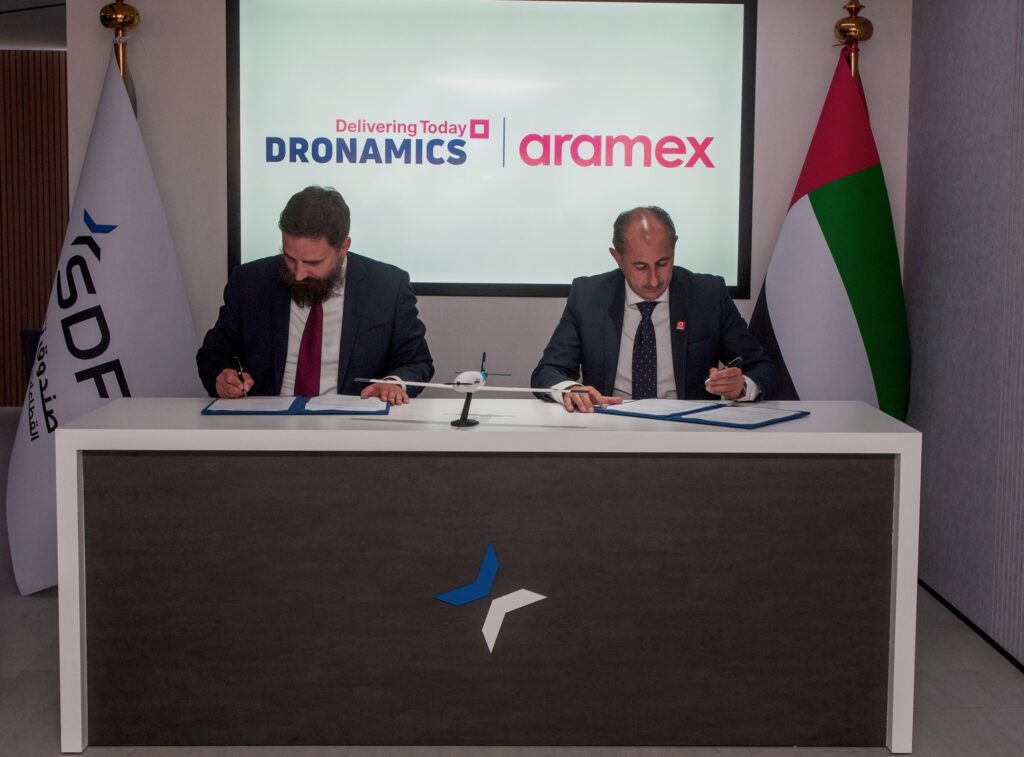 Dronamics, renowned for engineering and operating remotely piloted cargo aircraft, will supply its innovative drone technology to Aramex to enable same-day middle-mile and long-range deliveries. Aramex, one of the largest companies in the logistics sector globally, headquartered in the UAE and listed on the Dubai Financial Market, was founded in 1982 and moves 100 million parcels annually.
Sharing a common vision of the cargo drone delivery market, Dronamics and Aramex will initially explore joint deployment opportunities in the United Arab Emirates, followed by other key markets including South Africa and Australia.
This partnership, facilitated by the Strategic Development Fund (SDF) as a strategic investor in Dronamics, will see Aramex, known for setting the standard in express logistics and transportation, offer the innovative cargo drone solution developed and operated by Dronamics on a larger scale. Dronamics can offer up to 80% faster, 50% cheaper and 60% lower in CO2 emissions compared to traditional transport services, making it well suited to express deliveries, a sector Aramex is known for. Its remotely piloted aircraft, the Black Swan, requires only 400 meters to land and take off, making it a viable solution for reaching remote and underserved areas where traditional airport infrastructure is missing or underdeveloped.
"We're excited to collaborate with Aramex, integrating Dronamics' cargo drone technology to bring the transformative benefits of rapid, cost-effective, and sustainable same-day delivery to the global stage," says Svilen Rangelov, Co-Founder and CEO of Dronamics.
"We are delighted to partner with Dronamics to explore their cargo drone capabilities within our operations. This aligns well with our continuing efforts towards harnessing innovation for enhanced operational efficiency, providing an exceptional customer experience, and minimizing our carbon footprint across the UAE and our global operations. Alaa Saoudi, Aramex Chief Operating Officer, Express Management
"This partnership with Dronamics adds a new element to our Future Vehicle Program. We hope to pilot flights with Dronamics in 2024, partnering with the broader ecosystem of regulators and enablers," says Angad Singh, Aramex Global Innovation Director.