Emirates Global Aluminium, the largest industrial company in the United Arab Emirates outside oil and gas, today announced the launch of the Challenger Programme in partnership with Aurora 50 and in the presence of His Excellency Abdulla Ali Al Nuaimi, Assistant Undersecretary Ministry of Human Resources and Emiratisation.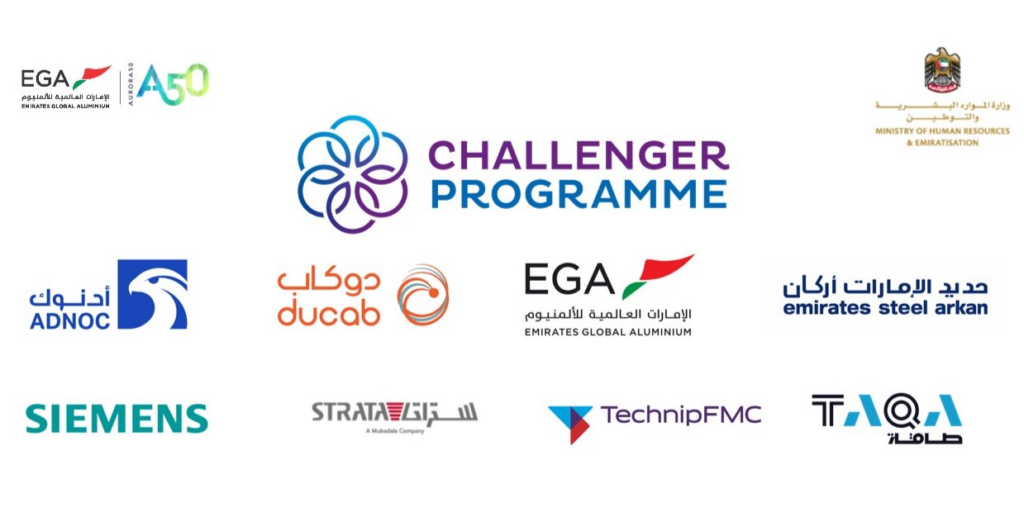 The Challenger Programme, under the patronage of the Ministry of Human Resources and Emiratisation, brings together major industrial companies in the UAE that are traditionally male-dominated and share the goal of promoting gender diversity. The first companies joining EGA in the Challenger Programme are ADNOC, Ducab, Emirates Steel Arkan, Siemens, Strata, TAQA and Technip FMC. EGA has set itself ambitious goals for gender diversity. The company aims to increase the proportion of supervisory roles held by women to 25 per cent by 2025, and for 15 per cent of all positions at EGA to be held by women by 2026. The goal of the Challenger Programme is to make quicker progress on gender diversity by sharing innovation and best practice on practical challenges all the companies face, from redesigning worker accommodation to amending policies and procedures, and together advocating for more women to join industry. The Challenger Programme was launched at Aurora 50's Inclusion Summit in Abu Dhabi.
His Excellency Dr. Sultan Ahmed Al Jaber, Minister of Industry and Advanced Technology and ADNOC Managing Director and Group CEO, said: "As a responsible global energy provider, ADNOC is committed to driving gender diversity. We are very pleased to join The Challenger Program which will help accelerate gender diversity and build a more inclusive workforce across the energy industry." Abdulnasser Bin Kalban, Chief Executive Officer of Emirates Global Aluminium, said, "Diversity drives business performance, and is also good for society. Promoting gender diversity is an important priority at EGA as part of our bold aspiration to become a talent-driven organisation. I am convinced that we can make even faster progress working together with like-minded companies, and I thank all our partners for joining EGA in the Challenger Programme." His Excellency Abdulla Ali Al Nuaimi, Assistant Undersecretary of Domestic Worker Affairs at the Ministry of Human Resources and Emiratisation, member of the UAE Gender Balance Council, said: "The launch of the Challenger Programme supports the ministry's strategy to accelerate gender diversity in workplaces. The UAE has emerged as a global leader in gender balance in light of national legislations and government initiatives that support diversity and equality."
His Excellency added: "The Ministry of Human Resources and Emiratisation won the fifth edition of the Gender Balance Index for the Federal Government. The award reflects the ministry's focus on implementing polices that reduce the gender gap in the workplace. Our goal is to drive updated practices to further women's participation in different sectors as well as their economic contribution." EGA currently has 471 women working at all levels, including over 160 in Operations. Some 100 UAE National women joined EGA last year. Two members of EGA's Executive Committee are women, and EGA has appointed women to nine positions on subsidiary boards within the group. Last month, EGA hired women as utility operators – frontline non-supervisory roles in Operations – for the first time. EGA opened its National Training Programmes, which develop UAE National high school leavers for technical positions, to women in 2022.
EGA became a signatory to the United Nations' Women's Empowerment Principles in 2022. Mohammad Almutawa, Group Chief Executive Officer of Ducab, said: "Ducab is committed to fostering gender diversity, recognizing its fundamental value in driving innovation and progress within industries. Understanding the importance of diverse perspectives, Ducab advocates for inclusive environments that empower women in these sectors. Acknowledging the untapped potential, the company believes in collaborative efforts among businesses to advance gender equality, and strives to break gender barriers and stereotypes, and encourage women's participation in technical roles. Indeed, women now account for 24 per cent of the group's management roles, distributed between top and middle management, as well as 21 per cent of its engineers and 24 per cent of office staff.
"Embracing diversity not only enriches the workforce but also enhances decision-making, driving industry transformation. Ducab believes that a collective effort is essential to accelerate gender diversity in these industries." Eng. Saeed Ghumran Al Remeithi, Group Chief Executive Officer of Emirates Steel Arkan, stated: "Emirates Steel Arkan's commitment to fostering an inclusive work environment characterised by diversity, equality, and empowerment is resolute. Our participation in the esteemed Challenger Programme alongside other Founding Members exemplifies this dedication. Within the UAE's heavy industry, we take pride in leading by example, actively attracting and retaining highly skilled female professionals, championing gender diversity within our organization, and serving as a beacon of inspiration for more women to enter this sector. Undoubtedly, the Challenger Programme will play a pivotal role in advancing and significantly enhancing gender balance throughout the entire industrial ecosystem."
Helmut von Struve, the Chief Executive Officer of Siemens in the Middle East, said: "We are proud to join 'The Challenger Program,' led by EGA, to drive gender balance in the UAE's industrial sector. At Siemens, we recognise the underrepresentation of women in our workforce, and we're committed to systemic change with a goal for at least 30 per cent female leadership by 2025. This initiative fits with our global strategy to build a diverse foundation to drive future innovation and growth." Ismail Ali Abdulla, Head of UAE Clusters, UAE Investments Platform- Mubadala, and Managing director & Chief Executive Officer of Strata, said: "Joining the Challenger Programme is a testament to Strata's commitment to breaking barriers into new industries. At Strata, we believe that diversity isn't just a metric, it's a powerful catalyst for innovation, progress, and strength. We at Strata stand firm in the conviction that it's our responsibility and our privilege to foster a culture of inclusivity. By collaborating with other industry leaders, we aim to rewrite the narrative, proving that when we come together, we can truly accelerate the pace of change for diversity in advanced industries."
Jasim Husain Thabet, Group Chief Executive Officer, and Managing Director, said: "At TAQA, we believe in the power of diversity, equity and inclusion and its role in driving the company's growth and excellence. We believe that through our collaboration with the Challenger Program, we will further encourage a culture that is diverse, equitable, inclusive, and forward-thinking. As industry leaders, we are committed to enhancing gender diversity and ensuring fair opportunities within our sector. A more diverse workforce, supported by inclusive and equitable working practices will help improve decision-making, enhance performance, and drive innovation and creativity, each critical in our efforts to reinforce our position as a leading low-carbon power and water champion."
Thierry Conti, President, Surface Technologies, TechnipFMC, said: "At TechnipFMC, our purpose is to drive real change in the energy industry. We know that how we do business is as important as why we do business, and we strive for a culture that is diverse, inclusive, and forward-thinking. We are proud to be part of the Challenger Programme and together with other Founding Members, look forward to making a positive impact to the gender diversity challenge facing our industry."