South Africa and the UAE top all 17 countries in a new report on overall environmental commitment.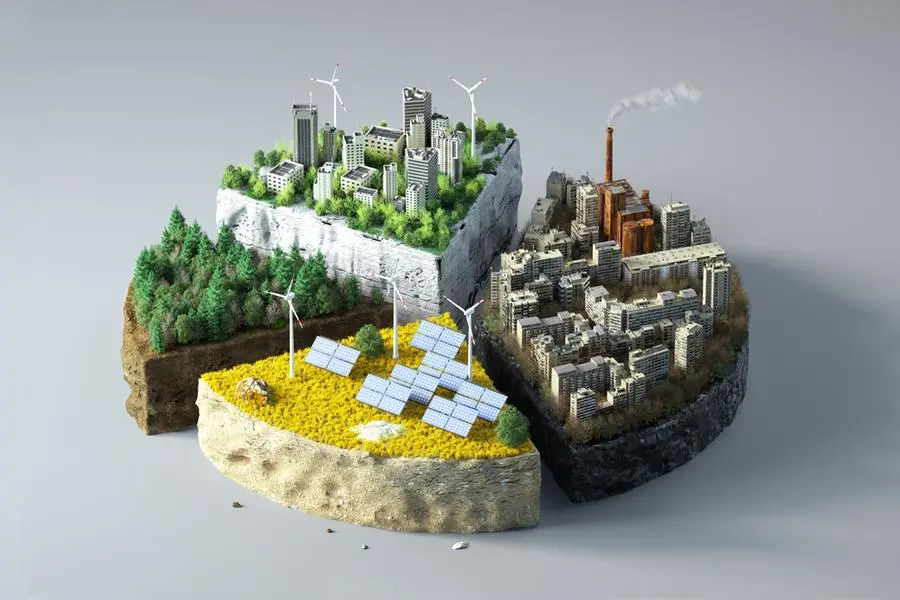 The United Arab Emirates, Saudi Arabia and Qatar are doing the most in the GCC to fight climate change in several key areas despite their fossil fuel dependency, according to a new report that compares government and business sustainability policies, investment and actions across the Middle East and Africa.
South Africa, the United Arab Emirates, Egypt and Saudi Arabia rank at the top of the 17-country Middle East and Africa Evironmental Sustainability Scorecard, released Thursday. The scorecard is the most detailed examination to date of country performance in environmental sustainability outcomes, government policies, and corporate practices in the two regions.
The report concludes that the 17 countries covered "are relative 'late comers' to global sustainable development but at the same time represent regions that are rapidly stepping up their sustainability strategies, programs and investments."
The report was commissioned by Agility, a global supply chain services company based in Kuwait. It was compiled by Horizon Group, a Geneva-based firm that specializes in research and analysis for governments, international organizations, and leading businesses worldwide.
Horizon scored countries in six key "pillar" areas. The UAE ranks 1st in Sustainable Infrastructure & Transport; Energy Transition; and Environmental Ecosystem. Qatar is 1st in Green Investment, Innovation & Tech; and Governance & Reporting. Saudi Arabia ranks in the top five in five out of six key pillar areas.
Bahrain performs well (3rd) in Circularity, a measure of resource-use efficiency and waste management; Oman's highest ranking (6th) is also in circularity. Kuwait did best (5th) in Environmental Ecosystems, which examines air, soil and water pollution, along with conservation and biodiversity.
All six hydrocarbon-intensive GCC countries are at the bottom of the 17-nation ranking in Energy Transition, which looks at energy supply and renewable energy use, subsidies and taxes, along with energy-transition agendas at national and corporate levels. Leaders in Energy Transition are: Uganda, Nigeria, Rwanda, Kenya and South Africa.
GCC countries are investing heavily in sustainable development, which will spur their economic growth. Current World Bank projections forecast combined GCC economic output to be $6 trillion by 2050. But "embracing a strategic green growth approach to economic diversification could potentially elevate this figure to over $13 trillion," the report says, citing World Bank estimates.
The scorecard uses 48 performance and progress indicators to compare countries. The indicators include data, regulatory frameworks, policy assessments, incentives and corporate practices across six pillar areas: green investment and technology; sustainable infrastructure and transport; governance and reporting; energy transition; environmental ecosystems; and circularity. To capture corporate practices and progress, Horizon surveyed 647 business executives in 17 countries.
Key Findings
One through 17, the countries rank: South Africa, UAE, Egypt, Saudi Arabia, Rwanda, Kenya, Uganda, Ghana, Morocco, Qatar, Tanzania, Nigeria, Bahrain, Kuwait, Cote d'Ivoire, Oman, and Mozambique.
Business isn't paying attention to COP. Eighty-two percent of African businesses and 49% of Middle East businesses are not aware of the UN-led COP process that nations are using to push and measure efforts to tackle climate change. Few companies use COP to set their sustainability targets.
Climate change is hurting businesses. Ninety-seven percent of companies say their business has been affected by climate change, and 49% say climate change has caused "severe damage" or has a "significant and growing" impact on them.
Governments are leading as businesses play catch-up. When it comes to climate action, governments are outpacing the private sector in both the Middle East and Africa.
No one size fits all. Different countries have different sustainability priorities based on income, economic strengths, energy dependency, and other factors. High-income, energy-producing Gulf countries generally invest more in sustainable infrastructure and ecosystems. African economies perform best in energy conservation and consumption.
Green investment is expensive. High- and middle-income countries are investing the most: Qatar, the UAE, Morocco and Saudi Arabia.
Africa is focused on green transport. Uganda, Nigeria, Rwanda, Kenya and South Africa are tops in the move to non-fossil fuels for transport. Hydrocarbon-producing Gulf countries are focused more on green buildings. For Gulf countries, the transition to cleaner energy is complicated by energy-intensive national priorities: the desire to boost manufacturing and the need for desalinated water.
Waste management and consumption are tied to wealth. High-income countries are doing more to manage waste sustainably. Poorer ones do more to constrain consumption. Overall, Egypt, South Africa, Bahrain and the UAE perform best in "circularity," cutting waste, encouraging recycling and sustainable production, and lowering consumption.
Agility was recently named the No. 3 Middle East "Sustainability Leader" for Transport & Logistics by Forbes Middle East. Vice Chairman Tarek Sultan said the company's strategy and investment decisions are increasingly shaped by the urgency of the climate fight.
"As a supply chain operator and investor in the Middle East and Africa, we want to know what governments and businesses are prioritizing, and where they're putting resources in the climate change battle," Sultan said. "We want to know who we can partner with in green infrastructure and transport, alternative fuels, and supply chain services that reduce environmental impact without sacrificing performance."
Horizon, which compiled the scorecard report for Agility, said its intent was to look "beyond the selective characteristics of the Middle East being fossil fuel-dependent with high greenhouse gas emissions per capita, and African countries being low emitters of greenhouse gases but taking relatively little action on the environment."
The scorecard report comes on the eve of COP28, the UN-led global climate change conference convening from Nov. 30 to Dec. 12 in Dubai. Its findings reinforce those in a World Economic Forum (WEF) report, issued in October, on decarbonization and energy transition in the Middle East and North Africa.
The WEF report concluded that "MENA countries trail behind comparable regions in terms of their sustainability progress. While local governments have pledged in the past 24 months to bring 60% of MENA's emissions under the net zero ambition, businesses overall have yet to follow suit and bridge the gap with comparable global markets –12% have set up a net zero target and 6% have established a roadmap to reach net zero."