The newly established Metaverse Center is set to revolutionize immersive technologies and generative AI in communication,healthcare, entertainment, and education. The Incubation and Entrepreneurship Center aims to ignite AI advancements and foster future AI changemakers.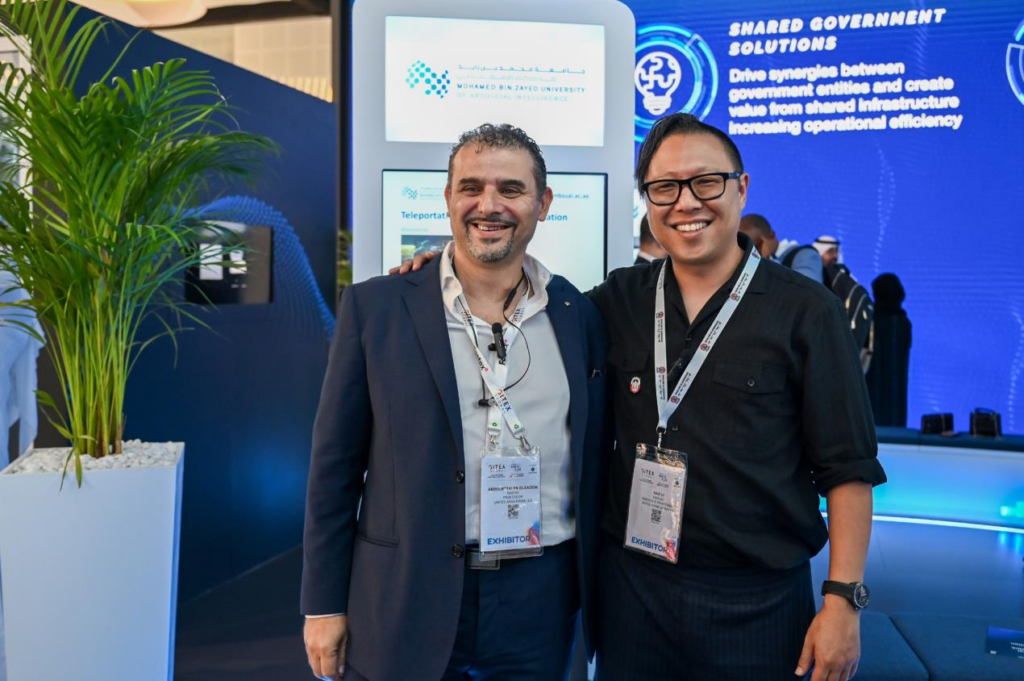 Mohamed bin Zayed University of Artificial Intelligence (MBZUAI), the world's first graduate-level artificial intelligence (AI) university dedicated to research, launched two new centers, namely the MBZUAI Metaverse Center (MMC) and the MBZUAI Incubation and Entrepreneurship Center (MIEC). 
Unveiled today at the Abu Dhabi Government Pavilion during GITEX 2023, the launch aligns with this year's theme, 'The Year to Imagine AI in Everything', and highlights the university's commitment to harnessing the transformative power of AI and finding solutions addressing the most pressing global challenges. 
"The launch of these centers demonstrates our university's dedication to leading AI research and national priorities," MBZUAI Acting Provost Timothy Baldwin said. "At MBZUAI, we are committed to developing a thriving AI ecosystem that not only strengthens partnerships with industry but also paves the way for innovative start-ups driven by the research foundations of the university. We look forward to exploring the limitless possibilities of AI as we empower talent that will help shape the UAE's future. "
The Metaverse Center is a full-stack AI research center focused on the metaverse and dedicated to pioneering AI-driven immersive technologies, particularly for communication, healthcare, entertainment, and education. It promises to help MBZUAI stay at the forefront of this emerging and interdisciplinary field (computer vision, generative AI, mixed reality, multimedia, and natural language processing (NLP)) with a lasting impact on academia, industry, and society.
Led by Director of Metaverse Center and MBZUAI Associate Professor of Computer Vision, Hao Li, along with MBZUAI Professor of Computer Vision, Abdulmotaleb El Saddik, the MMC is a futuristic vision brought to life—designed to harness the full potential of AI—as it builds the next generation of immersive online user experiences, digital content generation, and spatial computing technologies. This dedicated research center aims to be at the forefront, pioneering solutions that enhance user experiences, make the creation of digital environments more accessible and sustainable, streamline operations, and open new avenues of immersive training and education. Researchers at the center are showcasing advancements in AI-generated 3D avatar content, promoting lifelong learning that promises to become more immersive and more accessible than ever.
Recognizing AI as a cornerstone of the nation's developmental blueprint, the Incubation and Entrepreneurship Center is engineered to catalyze AI innovation and adoption in industry—bridging gaps from the ideation stage to creating start-ups—through offering a series of dedicated initiatives and programs. From comprehensive entrepreneurship courses offering business knowledge and local market know-how to equipping entrepreneurs with AI engineering support through a unique venture lab model, The center will also offer funding opportunities, computing resources, real-world start-up insights from those who have succeeded in the tech space, as well as networking events to empower aspiring innovators to turn their ideas into companies and thriving commercial realities. 
MIEC aims to drive business adoption in the AI domain while providing innovative AI-based solutions through developing an integrated ecosystem and nurturing future AI entrepreneurs and start-ups. It also benefits from a continuous stream of talent from the university, with more than 250 MSc and PhD students, 200-plus AI researchers, 100-plus alumni, and more than 62 leading faculty members, six of whom already have their own successful start-up ventures.
Earlier this year, MBZUAI established two new departments and four associated graduate programs dedicated to robotics and computer science to meet the surging global demand for the two disciplines. The two new MBZUAI programs, offering both MSc and PhD degrees, will help to further develop the UAE's wider AI ecosystem and position the country as an international hub for AI research and innovation. 
MBZUAI is participating under the umbrella of the Abu Dhabi Government Pavilion at GITEX Global 2023. Visit MBZUAI at Hall 19, stand B20, Sheikh Saeed Hall at the Dubai World Trade Centre (DWTC) to learn more about the University's latest metaverse research.