Partnership aims to foster engagement through impactful volunteer opportunities.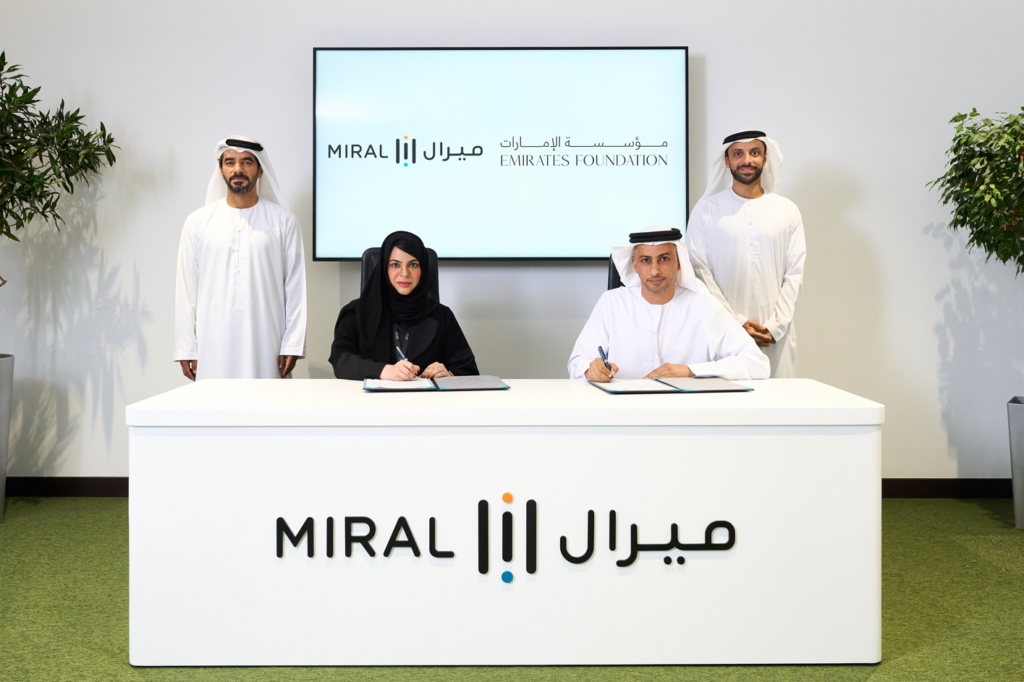 Miral, the leading creator of immersive destinations and experiences in Abu Dhabi, and the Emirates Foundation, recognized for a decade-long commitment to cultivating volunteerism among young people, announced today the signing of a Memorandum of Understanding (MoU) to foster youth empowerment and social welfare across the UAE.
Through a series of unique initiatives, the partnership cements Miral's robust Corporate Social Responsibility (CSR) strategy focused on the positive development and wellbeing of the communities in which it operates, while demonstrating the Emirates Foundation's vision to place youth at the forefront of economic, social, and human capital development.
The agreement was signed by Taghrid Alsaeed, Executive Director, Group Communications and Destination Marketing at Miral, and Mohanna Obaid Al-Mheiri, COO of Emirates Foundation, during a signing ceremony held at Miral headquarters in Abu Dhabi.
Commenting on the signing, Mohamed Abdalla Al Zaabi, Group CEO of Miral, said: "As part of Miral's ambition to accelerate the realization of Abu Dhabi's tourism growth, we remain committed to empowering the young people of the UAE and enriching their contribution to the wellbeing of the local community. Our strategic collaboration with the Emirates Foundation marks a significant milestone in our journey to becoming a more socially responsible organization as we foster valuable volunteering and community service opportunities."
Ahmad Taleb Alshamsi, CEO of Emirates Foundation, said: "We are very pleased at the signing of this agreement as it reaffirms our joint commitment with Miral to enable and empower young individuals to unleash their potential. By nurturing a culture of volunteerism, we pave the way for a harmonious future for the UAE, driven by compassion, collaboration, and collective growth.
A core component of the MoU will be collaborative educational and volunteer programs to engage youth in marine wildlife rescue efforts, raise awareness about preserving the UAE's marine ecosystems, and offer a platform for skill development. across Miral's award-winning theme parks and attractions on Yas Island, as well as the Yas SeaWorld Research & Rescue Center.  This will enable them to gain valuable experience in the leisure and entertainment industry. 
This strategic partnership is aligned with the three pillars of Miral's CSR strategy, focused on "skill development and livelihood,", "education,", and "environment.". With these pillars as a guiding force, Miral is committed to equipping young people with vital skills, providing lifelong learning opportunities, and ensuring environmental sustainability for generations to come.