The unprecedented pace of innovation and adoption of generative AI has ushered in a new phase in the AI revolution that will spark a new tech investment cycle.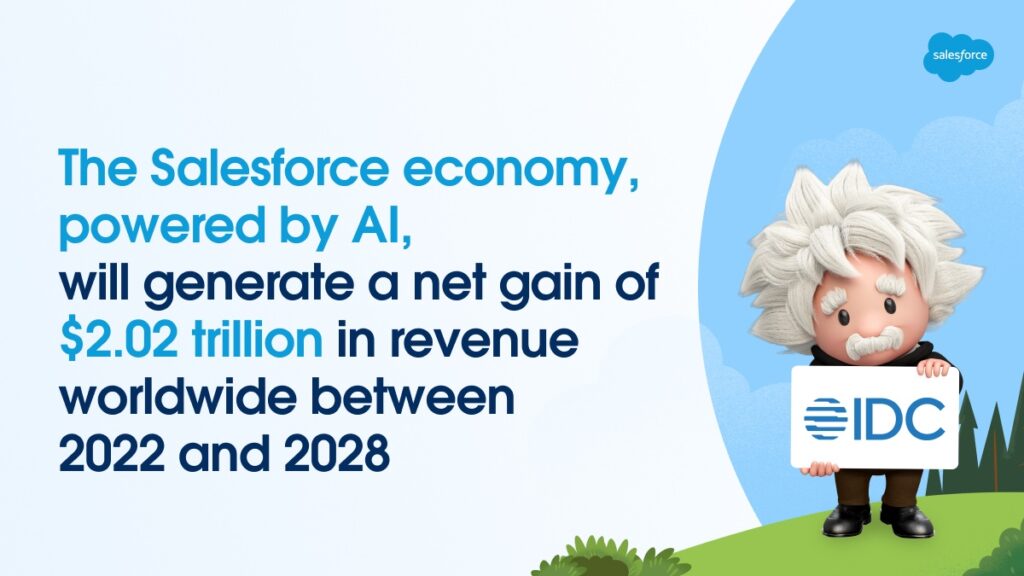 Salesforce today shared the topline results from a forthcoming IDC study showing that the company and its partner ecosystem, fueled by the new wave of generative artificial intelligence (AI), will create a net gain between 2022 and 2028 of more than $2 trillion in business revenues and 11.6 million jobs. The study also identified the factors driving adoption of AI – led by improving productivity – and the biggest barriers to adoption, including the talent gap, data governance and risk management, cost, and trustworthiness and bias.
While previous iterations of this study focused more narrowly on how cloud solutions were driving the Salesforce ecosystem's growth, IDC expanded its approach in the latest version to account for the effect of AI in general – and specifically the potential of generative AI – on the company's economic footprint.
For context, IDC's 2021 report predicted that Salesforce and its partner ecosystem would create 9.3 million new jobs and $1.6 trillion in new business revenues worldwide between 2020 and 2026. This year's study brings into focus just how powerful AI is and how it's transforming businesses across sales, service, marketing, commerce, and IT.
This new methodology reflects IDC's belief that seismic advances in AI are accelerating economic opportunity for Salesforce and its ecosystem. Salesforce has been pioneering AI for CRM since 2014, ushering in the first phase of the AI revolution with predictive AI to help enterprises find new insights, recommendations, and growth opportunities. Today, Salesforce continues to fuel the AI revolution's next phase with new generative AI capabilities.
Einstein is foundational to Salesforce's Customer 360 platform which now powers over 1 trillion predictions per week for customers across sales, customer service, marketing, commerce, and IT.
Today, every Salesforce cloud has generative AI baked directly into the flow of work. For example, Sales Cloud is helping sellers auto-generate personalized emails, based on their unique CRM data that provides relevant context to prevent hallucinations, all with just a single click, giving sellers more time to focus on customers and close deals. Service Cloud customers can now auto-generate personalized replies using real-time data to help service reps resolve customer issues faster.
At the center of Salesforce's AI innovations is trust. The Einstein Trust Layer allows customers to reap the benefits of generative AI while ensuring their enterprise data remains secure and within compliance regulations. The company has also built ethical guardrails for AI development based on five principles: accuracy, safety, honesty, empowerment, and sustainability.
Fast AI facts:
To supplement the 2023 Salesforce Economy study, IDC fielded a survey of more than 500 organizations using AI-powered solutions. Key findings include:
The biggest impacts of AI-powered solutions on organizations. These include: Helping employees do their jobs better (45%) and reducing repetitive tasks (42%), Over the next 12 months, respondents expect that helping employees perform better will continue to be a major impact (44%), in addition to boosting employee productivity (43%), increasing workforce AI skills (41%), and improving job satisfaction (40%).
Top reported challenges, which include: A lack of skilled personnel like data engineers and AI modelers (35% of respondents), Top roles organizations have hired for in the past 12 months or expect to hire for in the next 12 months. Results include: Data engineers lead the AI roles (50% of respondents), Business analysts (43%), AI governance and risk management (34%), Cost (34%), Trustworthiness/bias in data (31%)