The world-leading producer of high-strength steel, SSAB, announces Al Shirawi Equipment Co. LLC's new My InnerStrenx program membership. The first company with dual brand program membership in the Middle East.
Established in 1976 in Dubai, Al Shirawi Equipment Co. LLC manufactures transport equipment under the ATLAS brand, including trailers, tippers, and truck-mounted bodies. Through its Atlas brand of trailers and bodies, the company has established itself as a prominent player in the transport equipment fabrication industry, serving a wide geographical area from the Middle East to the African regions. Their partnership with SSAB to use Hardox abrasion-resistant steel for tipper bodies and trailers since 2003 demonstrates their dedication to delivering reliable and long-lasting products.
Al Shirawi Equipment Co., ATLAS LLC, was appointed as a Hardox In My Body member in 2016 with its Hardox applications in Tipper bodies and Tipper trailers. Building upon this success, the company continued to excel in 2023 by joining the My Inner Strenx program through the utilization of Strenx performance steel in their trailer chassis. This program is exclusively designed for manufacturers deeply committed to producing top-tier products with Strenx performance steel. Remarkably, Al Shirawi Equipment Co., ATLAS LLC, has achieved a milestone by becoming the first company in the Middle East to hold a dual brand program membership, encompassing both Hardox in My Body and My Inner Strenx, a testament to their outstanding commitment to superior quality and performance.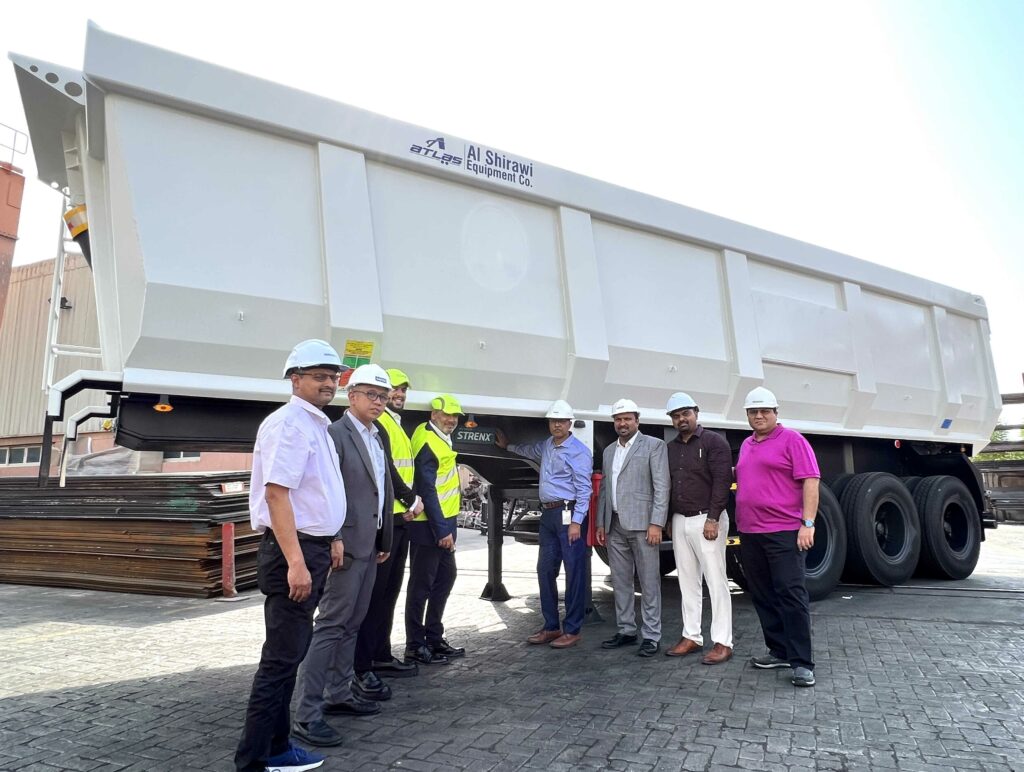 Al Shirawi has been constantly improving their trailers and truck body manufacturing to suit the rigorous demands of the industry. By incorporating Strenx high-strength structural steel into their superstructures, Al Shirawi achieved significant benefits, including reduced trailer weight, increased payload capacity, and improved overall cost-effectiveness, which have been acknowledged and accepted by their customers in the region. Strenx steel has a wide range of strength (from 600 MPa to 1300 MPa), allowing for reduced weight of steel structures by up to 40%, making it ideal in truck body and trailer chassis manufacturing in terms of overall strength, quality and cost.
In tandem, Hardox abrasion-resistant steel and Strenx high-strength structural steel represent a game-changing combination for building lightweight, durable, and highly efficient transportation solutions. This dynamic pairing has the potential to redefine the service lifespan, lower operational cost and enhance the overall efficiency of transport equipment across a wide array of industries.