The GCC region, particularly Saudi Arabia and the United Arab Emirates, has become a focal point for DERIVATIVE. With a keen eye on the burgeoning opportunities in these markets, the company is dedicated to enhancing the warehousing landscape with its state-of-the-art solutions.
In the dynamic world of logistics and warehousing, DERIVATIVE has emerged as a frontrunner, catering to the needs of businesses as a warehouse solution provider and robotics producer. Positioned at the heart of Turkey, in the vibrant city of Istanbul, DERIVATIVE has strategically placed its Research and Development (R&D) center. Meanwhile, its sales office operates from the bustling hub of Dubai, UAE.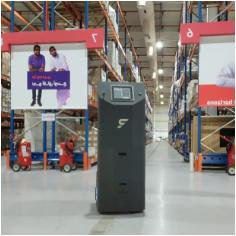 DERIVATIVE's journey has been significantly fortified through its robust partnership with RV Consultancy, led by the visionary CEO, Mr. Robin Vermaat. This collaboration has added tremendous value to DERIVATIVE's growth story and underscores its commitment to delivering excellence.
A key strength of DERIVATIVE is its ability to optimize storage space and operational efficiency for its customers. The company specializes in offering tailored pallet solutions and customized applications designed to address the unique challenges faced by businesses. This approach results in a smarter, more streamlined approach to warehousing.
Founded in 2020, DERIVATIVE has quickly emerged as a key player in the fields of robotics and warehouse automation. The company's remarkable journey has led to over a million dollars in revenue, with a significant impact felt across various industries. Notably, DERIVATIVE has excelled in the aviation sector, streamlining the movement of airplane engines, and has proven instrumental in enhancing operational efficiency in warehouses, including 2PL and 3PL setups. However, the company's expertise isn't confined to aviation alone. DERIVATIVE has also transformed inbound and outbound processes in warehouses, optimizing pallet movement and delivering a streamlined logistics experience. This proficiency extends to fulfillment centers, where DERIVATIVE has become a valuable asset for the booming B2C market, optimizing pallet management to ensure the efficient packaging and shipping of products in boxes.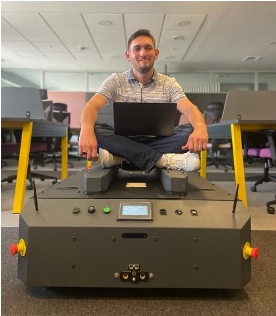 DERIVATIVE's journey stands as a testament to its dedication to innovation, operational excellence, and customer satisfaction. The company's substantial revenues in a short time underscore its profound impact on the automation and warehousing industries. As DERIVATIVE continues to expand and explore new horizons, its contribution to revolutionizing logistics and supply chain operations remains at the forefront of its mission. At the helm of DERIVATIVE is Eng.Mahmoud Sabra, the CEO and Founder. His leadership has been instrumental in assembling a team of qualified experts who share a passion for innovation and excellence.
Looking forward, DERIVATIVE is embarking on a fund-raising tour. By securing investments, the company aims to continue empowering its esteemed GCC customers with best-in-class robotics solutions.
DERIVATIVE is not just another robotics company; it is an innovation-driven force that is reshaping the way businesses approach warehousing. With a keen focus on the GCC markets, the company is poised for a bright future in the ever-evolving world of robotics and logistics.