CargoAi, airfreight's fastest-growing digital enabler, has announced the launch of CargoWALLET, FinTech payment solution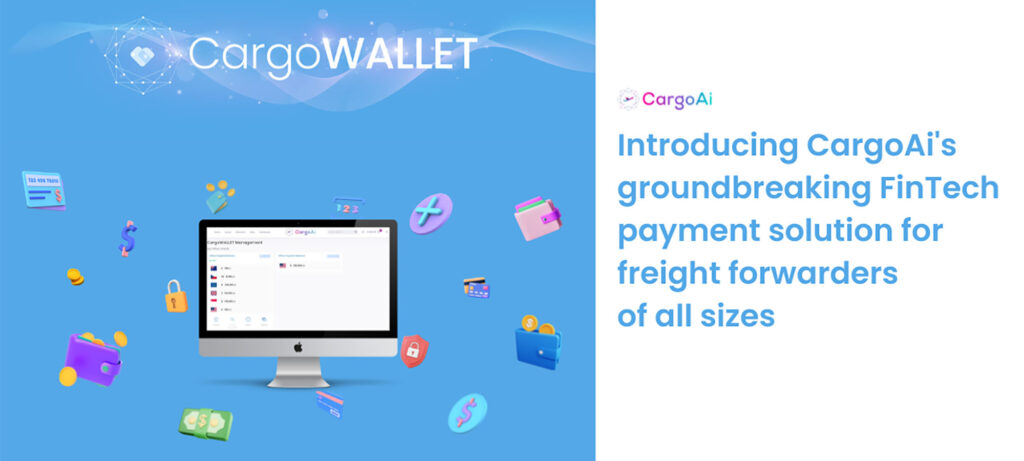 CargoWALLET is a modern payment solution for air cargo with supply chain financing capabilities, allowing freight forwarders to make payments for their air cargo shipments directly within the CargoMART booking flow.
Started as a project 2 years ago and accelerated with the CargoTech partnership, this groundbreaking payment solution is revolutionizing the way the air cargo is booked and is now finally released to all freight forwarders, following months of successful testing.
CargoWALLET enables shipments to be booked and paid for without an IATA Cass Number, without an AWB stock, AND without any bank guarantee, specifically tailored to empower small to medium-sized freight forwarders. CargoWALLET also addresses the needs of medium to large freight forwarders who have an IATA Cass number, but may not have AWB stock with all the carriers due to expensive bank guarantees, or certain airlines still requiring such forwarders to produce bank guarantees. All of these scenarios require additional steps for freight forwarders to fulfil their daily business demands, adding up to more costs and time required.
CargoWALLET has the additional benefit of allowing freight forwarders to place bookings from any origin as well as long payment terms (PayLater).
"We are excited about the exponential capabilities CargoWALLET brings to the industry. Not only does air cargo booking become more seamless, but the entire procurement from search, quote, booking, and now payment can be done within minutes on just one interface – CargoMART", said Magali Beauregard, CCO of CargoAi. "Similar to our other products (such as Cargo2ZERO) we are helping not just the large industry players connect with each other in the digital air freight ecosystem, but ensuring stakeholders of all sizes get to stay ahead in the digital adoption as well."
CargoWALLET is embedded as part of CargoAi's current booking solutions (CargoMART and CargoCONNECT booking flows). If a user has their CargoWALLET activated, they will be able to search all of the airline carriers' capacities instantly and seamlessly pay for any booking using the digital wallet linked to their company account.
The basic functions of everyday digital wallets such as 'Top Up', 'View Account Balance' and 'Transaction History' are all features of CargoWALLET, replicating the ease of use that many forwarders are already familiar with, in their personal lives. Using a large and proven finance provider in the backend, users of CargoWALLET benefit from the lowest exchange rates in 30+ currencies, and minimal transactional costs – therefore, using CargoWALLET is no more expensive than a bank transfer.
"We are thrilled to be launching CargoWALLET, which brings the best practices from other industries to air cargo and enables a seamless process regardless of any freight forwarder's import origin", said Matt Petot, CEO of CargoAi. "By having multiple different functions within one digital solution, CargoWALLET is the first of its kind to having so many benefits for freight forwarders of all sizes. Our goal is to provide a secure and efficient platform, while maintaining the user-friendly and intuitive experience that CargoMART users praise, and we are confident that CargoWallet is just what the industry needs."
Want to stay updated on the latest industry news and trends? Subscribe today to receive your monthly news highlights directly in your inbox!