The AI powerhouse forges strategic alliance with the tech pioneer to unleash innovation and security in fintech.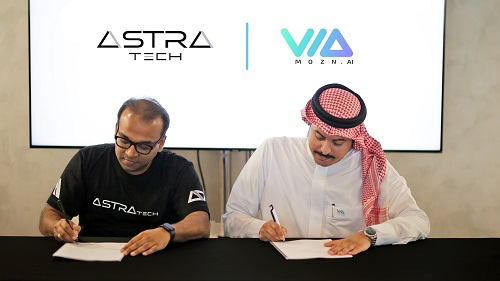 Regional AI powerhouse Mozn, a leader in enterprise AI technologies, inked a landmark partnership with Astra Tech, a pioneering UAE-based tech company. This alliance aims to strengthen their joint ability to tackle unique compliance challenges in local and global markets while setting a course for international expansion.
This collaboration aligns seamlessly with the growth strategies of both Mozn and Astra Tech, offering a compelling synergy between their distinctive strengths. The partnership was signed at the Fintech Surge event held recently in the presence of Dr. Mohammed Alhussein, CEO and Founder of Mozn, and Abdallah Abu Sheikh, Founder of Astra Tech and CEO of Botim.
This strategic move not only supports Mozn's expansion goals into the UAE market but also aligns perfectly with its dedicated efforts to strengthen the compliance framework in the country. The objective is to enhance the overall compliance landscape, promoting increased safety and transparency in financial operations. With Astra Tech's PayBy-powered Botim platform consistently breaking traditional banking barriers, this partnership ensures that the app's 150 million users can operate the offered fintech capabilities with an additional layer of security.
"Mozn's alliance with Astra Tech is a robust union aimed at fortifying the financial infrastructure of tomorrow," said Dr. Mohammed Alhussain, CEO and Founder of Mozn. "By combining our AI-driven compliance solutions with Astra Tech's unique business model, we're setting a new industry benchmark for rigorous compliance and financial fraud prevention. The dynamism and growth potential of the UAE market inspire us, and we are uniquely positioned to address its compliance complexities. Together, we're not just expanding our geographical footprint; we're strengthening the very fabric of global financial security."
Abdallah Abu Sheikh, Founder of AstraTech and CEO of Botim, said, "Our collaboration with Mozn is a strategic leap forward in realizing our Ultra app vision swiftly, showcasing the robustness of our innovative fintech products. Our PayBy-powered Botim app has seamlessly evolved into a comprehensive platform, offering a diverse array of financial services, from peer-to-peer transactions and international money transfers to prepaid cards. The platform's inclusive approach empowers individuals who lack traditional banking access to seamlessly conduct global transactions, benefiting both users and merchants. Moreover, our fintech capabilities are further fortified with the integration of AI-powered anti-money laundering (AML) solutions like FOCAL, ensuring enhanced security and compliance across our offerings."
Mozn continues to lead efforts in strengthening the global financial industry, with its flagship platform, FOCAL, at the forefront. FOCAL has conducted over 2 billion checks to empower clients by improving customer experience efficiency while achieving compliance through a risk-based approach. This commitment to excellence has garnered FOCAL recent accolades, including a spot among the Top 200 FinTech Companies globally and one of the Top 25 in the "Digital Business Solutions" award by prestigious organizations like Statista and CNBC.